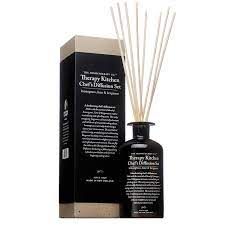 DIFFUSER CHEF LEMONGRASS 250ML
The Aromatherapy Company's Chef's Diffusion Set is made with the essential oil blend of Lemongrass, Lime & Bergamot to create a neutralizing and refreshing scent. This zesty, energizing fragrance will naturally eliminate and rid the air of unwanted cooking odours. Lemongrass is naturally deodorizing to cleanse your environment.The essential oil of lime is crisp, revitalizing and exhilarating. Bergamot has sharp citrus undertones; it is a sweet layered aroma to enlighten your senses and refresh your environment.
You can flip the sticks on this Therapy Kitchen Chef's Diffusion Set during or following cooking to freshen your kitchen and eliminate lingering cooking odours.
---
More from this collection